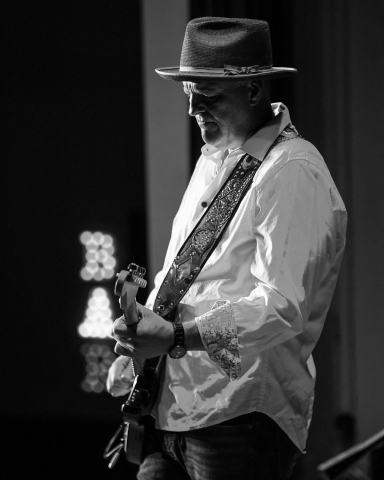 Albert Cummings has always prided himself on not putting limits on the music he can create. And it takes that kind of inner belief to keep growing, no matter when you start or where you go. Which is why this new album has raised the bar to a place where everything feels possible. "At one point Chuck Ainlay said Vince Gill was interested in meeting with me. And before the sessions had been completed, Gill was able to add background vocals on the song 'Last Call.' I figured then it was a sign that anything can happen, and it's so important to stay open to all possibilities. And that's the way I look at music. You can surprise yourself in so many ways with things that at one point seemed so far away. I have been playing a lot of years, and still find new ways of expressing myself. That's what this album is all about to me. It's given me a new way of looking at my future, and lets me believe that I'm still able to do whatever I can dream of. And that's the real joy of it."
For someone with the kind of background Albert Cummings has, that kind of confidence about his new music says it all. This is a singer and guitarist who has played with many of the greatest players of the modern era, and received the kind of awards and recognition that few others do. Raised in Massachusetts and self-taught on the banjo, it was a 1987 concert by Stevie Ray Vaughan and Double Trouble that opened Cummings to a new world of modern blues and inspired him to take up the guitar. It didn't take long from there for him to find his way to the front of the pack. In fact, Albert Cummings' very first album FROM THE HEART (2003) was produced by Double Trouble's Chris Layton and Tommy Shannon and included the group's Reese Wynans on keyboards. That had not happened before Cummings' release.
From that first album, the burgeoning blues world of the 2000s opened its doors for Albert Cummings. He recorded several albums for Blind Pig Records, and on 2012's NO REGRETS the guitarist extended the boundaries outside the blues world to include country and rock influences like he really hadn't before. It was obvious that the musician did not want to limit himself in any way, and saw a wider possibility for where his music could go. With its release on Cummings' own indie label imprint, Ivy Music Company, TEN is a full realization of that possibility.