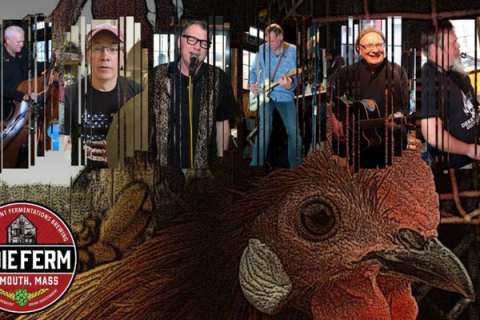 *****TICKETS SOLD AT DOOR; $5, cash only*****
[General Admission seating] 3:00PM-6:00PM
The Shady Roosters will play in the lobby at the Spire Center which is adjacent to the main auditorium. It is a comfortable and casual room with plenty of space for dancing or just enjoying the music without the trappings of a downtown bar room. It is also a family friendly environment. The lobby bar has three beer taps that will be serving IndieFerm beers during the shows. IndieFerm non-alcoholic kombucha will also be available by the bottle as well as wine
and other beverages.
Doug Lowry, bass player with the Shady Roosters, sums it up: "Before the pandemic, we played Sunday afternoons in downtown Plymouth for well over a decade and we have really been missing it. We have played the Spire a couple of times and have also seen lots of great shows there. But we realized that it wasn't being utilized much on Sundays. When IndieFerm offered to sponsor a series of shows, it made sense for everyone to bring back Sunday Funday at the Spire."
Independent Fermentations Brewing (aka IndieFerm) is a small craft beer and kombucha brewery in Plymouth. IndieFerm also includes a homebrew supply shop and a 400-plant hop farm in Plymouth. The brewery, tap room, and homebrew supply shop are located at 127 Camelot Drive in Plymouth, MA. IndieFerm beers include lots of German and Belgian styles as well as modern American IPAs and more. Kombucha is brewed by fermenting sweet tea with a symbiotic culture of yeast and bacteria. The result is delicious and healthful.
The Spire Center is Plymouth's premier live music venue. Based in a restored former church with excellent acoustics and perfect sight lines, the Spire attracts national touring musical acts, theater, and comedy on its main stage. Less formal shows happen in the adjacent lobby where there is also a bar with local craft beer as well as wine and other drinks. The Spire is literally at the center of downtown Plymouth, across the street from Town Hall.
The Shady Roosters are a South Shore-based roots rock band that have been together for about twenty-five years, mostly under the name Lonesome Jukebox. But they changed the name to the Shady Roosters recently as the lineup had changed somewhat. Their song list includes a mix of rockabilly, blues, roots, and country with some original tunes that wouldn't have sounded out of place on jukeboxes of the '50s and '60s. The most important ingredient is fun. They wouldn't still be doing it if it wasn't fun and that always carries over to the crowd.